You've probably seen several headlines claiming that Instagram is changing back to its chronological feed.  But don't get too excited just yet. To be more accurate, Instagram is simply coming up with a different algorithm and artfully stating that the changes will make recent posts "more likely" to appear.
In a post published on Thursday, March 22, Instagram announced that they are making changes to give us more control over our feeds. The company said they will ensure that recent posts have higher chances of appearing first on our feeds.
However, looking deeper into the post, you won't find a single mention of "chronological feed". VP of Product Kevin Weil discusses with people on Twitter that chronological feeds have their weaknesses and that they are trying to find the balance among chronological, ranking and other factors.
We're working every day to improve your Instagram feed—with your feedback top of mind! We want to start talking more about what we're changing and why. Today is our first step, focused on making the feed fresher, with newer posts closer to the top. https://t.co/EqoBiszIde

— Kevin Weil (@kevinweil) March 22, 2018
@iamthejer @9th @Atherworld totally chronological has its own weaknesses. My wife posts in the morning, but I check in the eve and I miss it. Or an account goes on a posting spree and takes over the feed. Finding the right balance is key and we're trying to get better every day.

— Kevin Weil (@kevinweil) March 22, 2018
Of course, many Twitter users were quick to point out that we're in this mess because Instagram wants to "shove ads" in our faces.
Not good enough. If your algorithms were so smart, they'd know we want to see things chronologically. Stop ruining user experience just so you can serve more ads.

Also, get rid of recommendations in the feed. We have the search page for that, I don't need my feed more clogged up

— Chase Chung (@chjchase) March 23, 2018
Some quipped how Weill's marriage is more important than Instagram users' preference.
You're right, screw all the people who want chronological, we can't have you missing your wife's posts!

— Juan two tres quatro (@_clevername) March 22, 2018
Others acted as mediators and suggested giving people options to pacify both sides.
Totally appreciate the updates and fixes. I do question why we can't simply be given an open for a true chronological feed though. Something similar to what FB has with two options, "Top Stories" and Most Recent". Curious to know the thoughts behind that.

— RunTheNoles ? (@Fox15GTI) March 22, 2018
Beyond the little internet fun, however, it remains to be seen when the new changes will roll out and how the new feed algorithm will be an improvement. According to Instagram, more changes are coming and they'll keep the public informed.
In spite of people complaining for almost a year now, Instagram doesn't appear to be listening. Some are quick to defend that it's still a huge improvement from being given lame excuses as to why people you don't follow are showing up on your feed.
Something to Chew on for Now: No More Automatic Refresh
As if to throw us a bone, Instagram is addressing the bothersome feature that automatically refreshes the feed, so that users can stay where they want. The company is testing a "New Posts" button that takes you to the top of the feed if you want to see the latest posts. If you don't press the button, you will remain where you are – instead of your feed suddenly refreshing and you losing what you were looking at.
We haven't found beta testers yet, but if you update your app and find that you're one of the lucky firsts to try the new feature, let us know how it goes.
ICYMI: Other Recent Updates on the Gram
Apart from coming up with a new algorithm and mitigating the internet clamor demanding for better feeds, Instagram has also been busy with several updates. Just this 2018, the social media app introduced hashtag and profile links in bio, a "type" mode in stories and a fun GIF feature – which was unfortunately pulled out early in March because of a GIPHY sticker with a racial slur. Yikes.
March 21, 2018 – Hashtag and Profile Links in Bio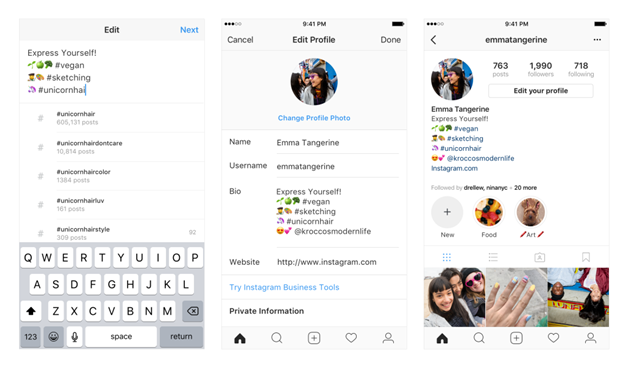 Just last December, Instagram gave users the ability to follow hashtags. Today, you can use hashtags and profile links in your bio. If you want to edit your profile, go to your bio section and use a "#" or "@". A list of recommended accounts and hashtags will appear. Select the group or account you want to appear in your bio.
So now you can "express yourself and your interests right in your profile".
Personally, I don't see how this helps people better express themselves but I can imagine how this feature helps marketers find their target market. *wink* (You're welcome for the unsolicited advice on avoiding more ads on your feed.)
March 9, 2018 – Instagram Pulls Out GIPHY Stickers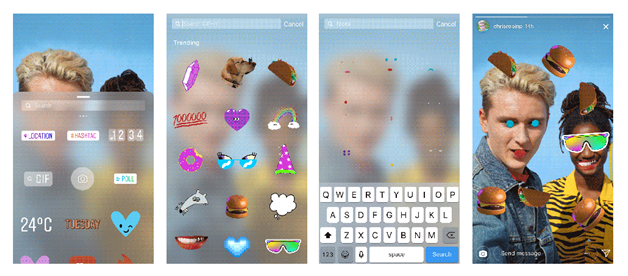 Many rejoiced when Instagram introduced GIF stickers in January 23. Instagram offered a library with thousands of moving stickers powered by GIPHY. People started posting photos and videos blinged up with animated shades, dancing cats and winking hearts.
The fun was cut short, to many people's dismay, as a sticker with a highly aggressive racial slur was found in the library. Despite GIPHY's action to remove the sticker, Instagram has removed the GIF feature.
Instragram spokesperson told TechCrunch that racial content "has no place on Instagram" and that they have stopped integration with GIPHY while they are investigating the issue.
February 1, 2018 – Type Mode was Introduced in Stories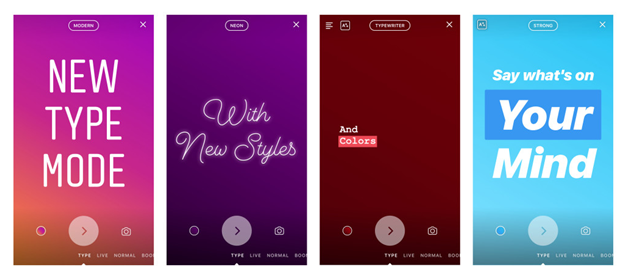 Instagram made feeds more colorful with its introduction of the "Type" mode in stories. Users now have the option to use various text styles and backgrounds to share their random thoughts or events in their life. Users can choose among a typewriter, neon light, strong and modern text options. They can also choose words or phrases to highlight and use a photo as a background.
If you haven't seen and used this new feature yet, open your camera and find the "Type" option beside "Normal". Choose Type and write whatever you want. Like anything you share on stories, it will disappear after 24 hours.
January 18, 2018 – Instagram Started Sharing Activity Status
Instagram  now also shares your activity status like every stalker's best friend: Facebook Messenger and WhatsApp.
This new feature tells friends you are in contact with when you last checked the app – and it's turned on by default. To make the alarm bells louder, Instagram did not announce on their page when and why they added this feature.
Luckily, it's easy to turn the feature off. Simply go to "Edit Profile" and use the toggle button for "Show Activity Status". Here's the catch: turning off the feature won't let you see when other people were last active on Instagram. But for those who value their privacy, this would seem like a small price to pay.
Where is all this going?
We don't know yet where Instagram is taking us, but that doesn't mean we can only sit idly by. Like what people have done within the past months, you can keep on suggesting what you need and want from the photo-sharing app.
To be fair, Instagram has given users enjoyable updates such as the type mode and GIPHY stickers. The "New Post" button is a nice idea as well, given the current situation (even if it wouldn't have been necessary if the new automatic refresh feature wasn't introduced.) But many are understandably frustrated why Instagram just won't listen to its users.
Instagram: We don't know what users really want
Users: Chronological timeline
Instagram: Maybe new filters?
Users: Chronological timeline
Instagram: More related posts?
Users: Chronological timeline
Instagram: I guess we'll never know

— The Holiday Armadillo (@_sssmudge) March 12, 2018
Seeing that Instragram is showing signs of budging or at least a willingness to compromise, keep doing what you're doing and let their R&D and Product team heed your thoughts.
Stay tuned for updates and comment your thoughts below.
Glenn has been gifted with an incomparable aptitude for computers and cursed with the humor of a prepubescent male. With the curiosity of a young boy, Glenn is relentless in his pursuit of the latest hardware and software tools around the world.